Pilates Pop-up / Testimonials
What is a Pilates Pop-Up?
A Pilates Pop-Up class brings Pilates to you through trained instructors and provides room for your workout and to experience everything Pilates has to offer with the freedom of being outdoors in a group setting. Economical, convenient, and fast, Pilates Pop-Ups are taking traditional studios to a higher and more challenging level. Pilates Pop-Ups are a win-win for Pilates and students. You get a unique experience that yields awesome results with your consistent workout, conveniently located near you at affordable prices in an outdoor environment.
Pilates Pop-Up Testimonials
I love the way it feels when I walk up to the gathering of people at Pilates Pop-up in the park. Getting into class for the first time, it's so welcoming and everyone has a smile on their face. Seems almost like a community or private club atmosphere. In gyms and traditional studios, I feel like just another number attending workouts without anyone caring who you are.
At Pilates Pop-Up it is just the opposite. I see the beautiful Pilates flags designating where I should go in the Park and the instructor teaching a class will say "Hi Melanie!" when I walk up. It really feels like a community. Everyone is so supportive and everyone is smiling. If someone is struggling with a move, the class encourages and helps me along! The class size is small enough to get individual attention from the instructor. I know that the instructor is there to help me get the most out of my workout with correct my posture or form if it needs adjustments.
After class everyone hangs around and chats and talks Pilates and what they have going on that weekend. Sometimes there is even a after workout libation and social time when class is finished in the afternoons.
Recently, it was raining at class time. I wasn't sure what to do so I went to the alternate weather location and it was still outdoors and dry. It was great working out and watching the rain while staying dry and toasty. During the winter, when temperatures drop, Pilates Pop-Up goes indoors to the most beautiful space to avoid the chill outside.
I cannot give Pilates Pop-Up enough accolades. It is fabulous and worthy of the highest five start review. Most of my friends are there and we have a great community to enjoy while getting great workouts. I, personally have lost weight and toned up. I couldn't be happier with my results!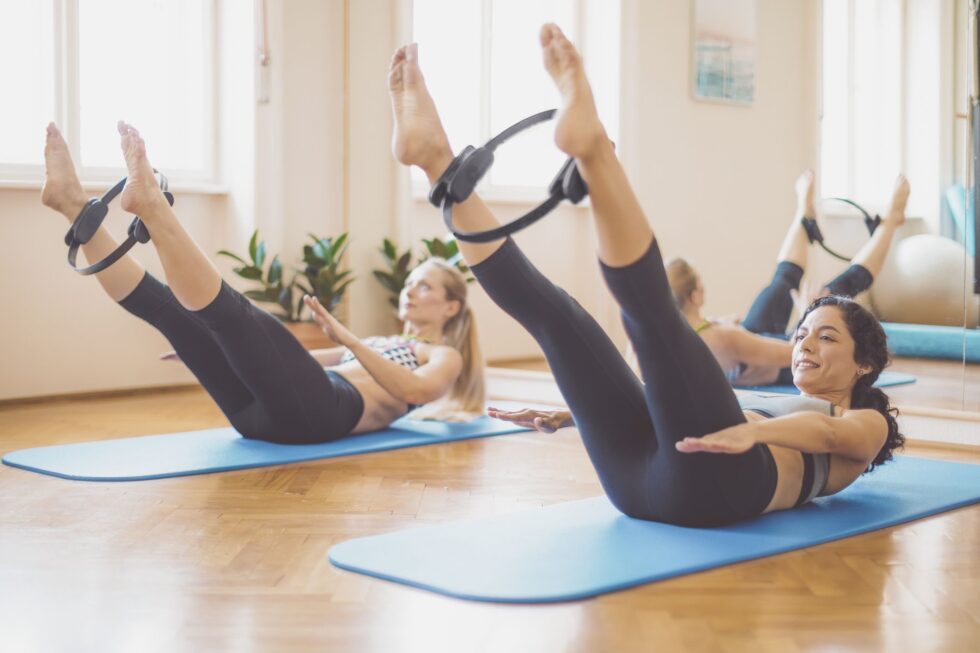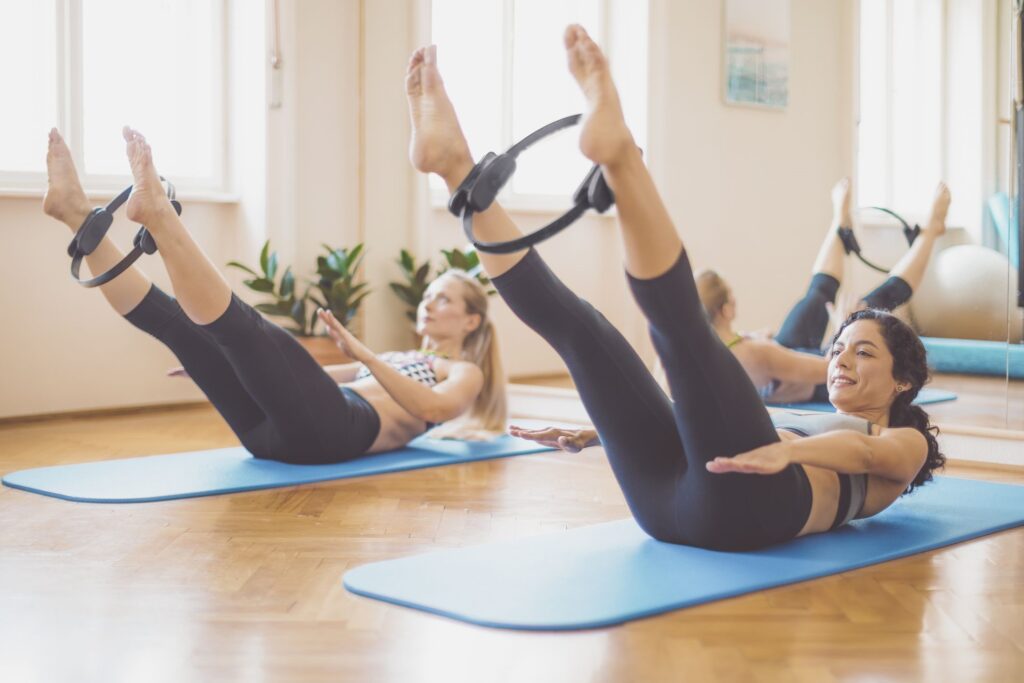 When I finished my first class, I realized Pilates Pop-Up wasn't anything like I thought it would be. There were no size 2s in matching outfits judging me and it was outdoors in a beautiful setting with plenty of fresh air. It was easy to find as I immediately saw the flags designating wher to meet. No one stared at me because I was so out of shape or overweight. We didn't get yelled nor did we have to jump around to pounding music. My instructor, Joyce, was so funny and welcoming – even when I couldn't figure out how to get the magic cirle to stay I needed it.  When I left, my legs and glutes were like noodles, but I didn't feel like I had just been through a horrible, sweaty workout. I felt energized, refreshed and clear of mind. That night I experienced the best sleep I have enjoyed in years. The best part of the workout for me was when we laid down on the mats, no one was watching me and I had a beautiful view of the park rather than the traditional "in the mirror" view of myself. I could concentrate on what Joyce was saying and do the very best for my body that day. I remember earning my Pilates Pop-Up T-shirt that first day and  nobody stared at me or judged me and I didn't have to hide behind all the "fit" people. What a relief! Everyone was enjoying the nice music and enjoying the beautiful views and fresh air on such a wonderful morning outdoors! It was so refreshing.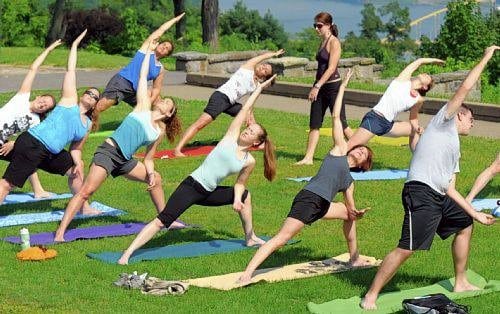 At the gym or the studio, I feel it becomes a competition amongst the students rather than self-improvement and enjoyment. So, my expectation when I joined Pilates Pop-Up as a member was exactly that. I had never been to a Pilates class before and didn't know what to expect. The Reformers look intimidating so I thought I would start outdoors to enjoy the weather. Something different than the standard indoors Pilates workout. Taking an intro class with my friend outdoors was a pretty basic representation of what Pilates is. I thought…If this is Pilates…its hard, but fun and enjoyable! Everyone was so friendly and helpful. It was like being in a private community. Little did I know that Pilates was the exact opposite of lifting weights and creates noticeable results. Instead of bulking up my arms and shoulders, I became toned and looked thinner and sleeker. My improved abdominal strength has helped my posture and my lower back no longer bothers me. The glute exercises have diminished by back pain and completely rehabilitated my old college knee injury. Best of all, I'm in competition with myself only. I measure how much progress I've done with every class. It is really fun and I love the comradery of my new Pilates Pop-Up friends. I sometimes go twice on Saturdays, morning and afternoon, just to enjoy the brief happy hour with libations after the last class. Pilates Pop-Up has really improved my self-confidence, given me new friendships and I am actually dating again. Life with Pilates Pop-Up is really great!
After about a year of Pilates Pop-Up outdoor classes (I got several 20 packs for a good deal), I looked online and saw there were private lessons utilizing the reformer and wunda chair. I asked some of my Pilates Pop-Up friends and learned many of them were going to private classes during the week. Based on my questions to the instructor and owner, as well as my friend's recommendations, I decided to take private classes. My results are remarkable. It's not easy, but I really get a great workout. My core is strengthening and I look very toned. My friends say I look much younger.
I started taking classes the first week Pilates Pop-Up opened in Dallas and loved going to my nearby park and enjoying the beautiful scenery, getting a challenging workout and seeing my new friends. I was immediately addicted. The instructors were encouraging and supportive of me regardless of my original out of shape body. They never made me feel self-conscious, but in fact made me feel like I could actually accomplish my fitness goals. Accommodations were given to me in class for my hip so I can work on making it stronger (I could barely bend over when I stared). Every time I walk up, the staff members greet me like I'm an old friend and my friends cheer me on. I find myself revolving my schedule around my favorite instructors and class times! I love it so much I'm taking private Lessons now.
Taking a Pilates Pop-Up introductory class, I was skeptical to begin. Pilates outdoors? No reformers? I thought Pilates was about equipment with springs to make my workout easier.  To my surprise, I could see how, if I focused on the proper muscles to be used for each specific exercise explained by the instructor, this type of exercise could be greatly beneficial.  When I was told that many hospitals were adding Pilate's studios for rehabilitation, I was totally sold. I started slow, with only 4 classes per month.  I thought "I am tired of jumping all in, then coming home injured", so I started gradually.  My goal has always been to get 5 great workouts in each week.  After attending 4 Pilates classes per month, I realized very quickly it was not enough for me.  I really wanted more.  I increased to 8 classes per month because I wanted to ease into this type of workout (this goes against my typical nature of jumping all in, but I knew I needed to change my behavior to avoid injury, to do things safely this time).  However, once again, I quickly realized I wanted more than just 8 classes per month.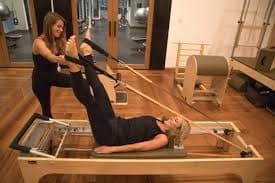 Now I go to 16 classes per month, 8 outdoors, every Saturday and Sunday and private reformer and wunda chair classes during the week. I love all the new friends I have made and am proud to be a Pilates Pop-up member. The benefits of membership are great with the discounts and packages. I also go to the happy hours after the last class on Sundays. I always wear my Pilates Pop-Up T-shirt with my exercise stuff. I highly recommend Pilates Pop-Up and give them 5 stars!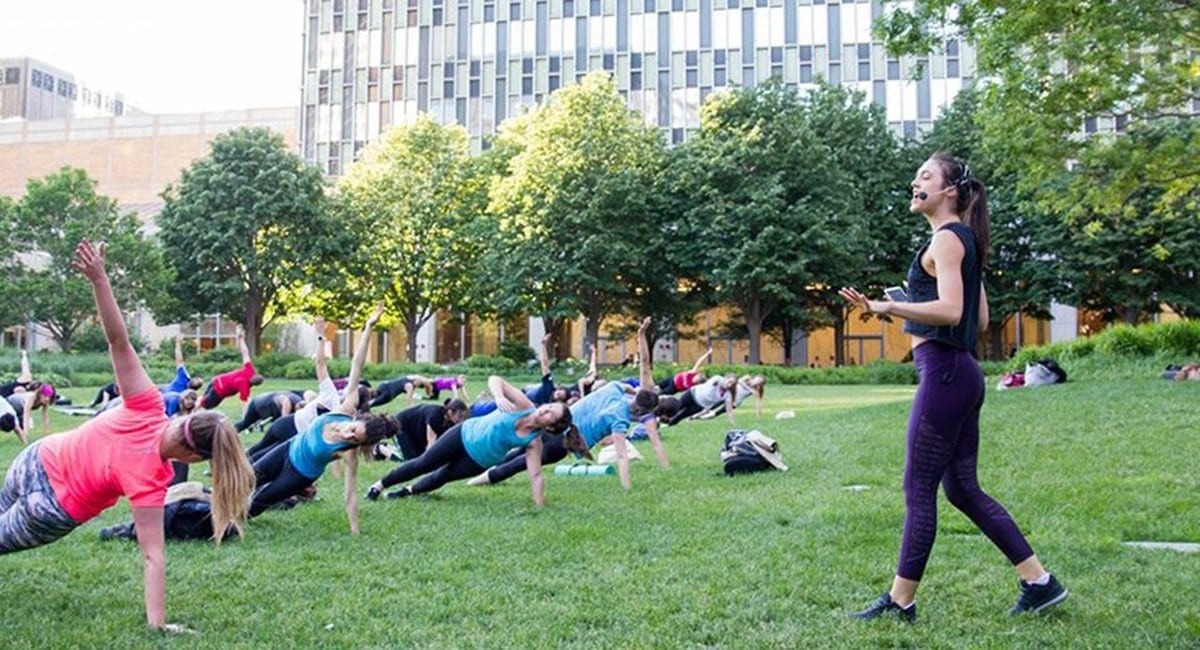 I had trepidation going to my first Pilates Pop-Up class. I found the workout had its challenges both mentally and physically. I didn't realize I had no mind body connection and my supportive fixator muscles were weak! I had daily hip and back pain due to my old sports injuries. When I left my first class my back and hip felt alleviated. I remember thinking, wow this footwork is hard! Which I now find to be a warm up. I was absolutely hooked from how my overall body felt after my first class and just how effective the exercises were. I also like the visible results I have achieved. I am thinner and more flexible. My friends all want to know how I did it. I adore Pilates Pop-Up, the friends I have made in the Pop-Up community and how great I feel all the time now. My self confidence is high and I'm even performing better at work. Definitely 5 stars!