If you can't find the time to fit all of the classical Pilates mat exercises in your workout schedule. You may think: How much pilates is enough? Is it possible to perform a selected amount of the exercises and still reap all the benefits of Pilates? Absolutely, just enroll in a Pop-Up Pilates class at a location near you to get a great workout and help from a professional Pilates instructor to help you develop a personalized Pilates workout to keep your fitness goals going in between classes.
How Much Pilates Is Enough?
It takes about 45 minutes to do the full classical Pilates mat workout at a good tempo. You also need a warm-up and hopefully a few minutes of integration time in the end. Add to that the likelihood that you will sweat, and probably need to change clothes, and maybe have a shower. So how much pilates is enough? There is no doubt, a full Pilates workout takes about an hour — as do any good workouts. Is it worth it? Yes, it is.
Will Partial Workouts Give Me All of the Benefits?
But the question is: Can you get all the benefits of Pilates with less than a full workout? The answer is not all, but many.
Experts recommend doing a full Pilates workout three to four times per week, either at home or in a class to get the full benefits of Pilates. However, research shows that many benefits can be obtained in just one or two weekly Pilates workouts.1
There are some benefits of Pilates like endurance and the wonderful fluidity of motion and the enhanced body/mind integration you get when you are fully warmed up with heart pumping and breath really moving that you won't get with a shorter workout. However, you can get lots of benefits from doing shorter workouts or mixing shorter workouts with longer ones in your weekly workout schedule.2
Shorter Pilates Workouts Still Provide Benefits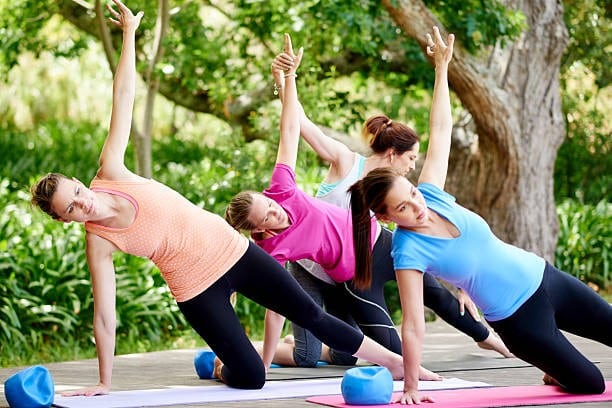 It is widely agreed by experts that some physical activity is better than none and that there is a cumulative effect of exercise is spread over time. You can get benefit from even the smallest Pilates moves performed throughout the day, but you may need to do a little more to truly increase fitness.
Many people find 10- to 20-minute Pilates workouts are effective for them. Just ask your Pilates Pop-Up class instructor to create an at home set of exercises to help you maintain your fitness goals to do in between your Pilates Pop-Up classes. Or schedule a private lesson on the reformer or wunda chair to get even more intense personalized instruction.
Many Pilates workouts focus on shorter mix and match style workouts. Shorter workouts are most effective in the context of an overall fitness program that includes cardio and longer Pilates workouts, but if you only do 10 or 20 minutes a few times a week, you will see positive changes in your body.
If you want to get in shape with Pilates, no matter how much you are doing, it is important to make sure that over the course of your weekly workout schedule you do workouts that are balanced, not merely focused on one or two body areas. One of the many benefits of Pilates, and directives of its practice is uniform muscular development — and that leads to a host of other benefits.
Learn more about how to make wise choices on how to create your own workout.
Tips That Can Help
Make the commitment and state your intention
Try different tips on scheduling that can help you squeeze in a workout
Keep an exercise log to help you stay on track
The most important thing is to do something rather than nothing and do it regularly. Even if you only have time for a shorter Pilates workout, sticking with it over the long term will help improve your focus, dedication, and overall fitness.
We can help you answer the initial question: How much pilates is enough? – Contact us today or call Joyce at 214-616-7989 to schedule an appointment for a group class or private lesson.